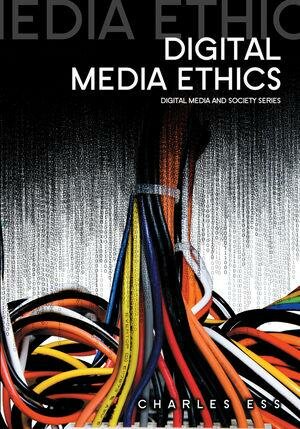 Digital Media Ethics by Charles Ess Polity Press | 2009
Polity Press's "Digital Media and Society Series" aims to explore how new technologies are fundamentally changing the ways we communicate. Digital Media Ethics by Charles Ess does just that.
Ess's fairly unique approach is to apply a particular ethical construct to bound discussion of concepts around certain sticky examples described in each chapter. Each chapter includes a chapter overview, a case study, discussion questions, and prompts for writing and reflection exercises. Ess's first five chapters offers a range of ethical issues that can be tied esily to other concepts in communication and media studies. The book concludes with a useful reference chapter that describes each of the ethical frameworks applied in the chapters more thoroughly.
The result is a text that caters to several audiences. Current examples and discussion bounded by particularly fitting ethical constructs make this text accessible to students encountering concepts in digital media and ethics for the first time. The same holds true for a scholarly audience who may be exploring concepts in digital media for the first time. For instructors, this book is a thorough resource to mine for discussion topics, discussion questions, suggested readings, writing prompts, and examples.
Ess begins by outlining central issues, and in subsequent chapters covers privacy, intellectual property, citizenship, and pornography and gaming. Each chapter offers specific timely examples paired with a particularly fitting ethical construct. For example, Ess pairs discussions of pornography online with feminist ethics and virtue ethics; he pairs a discussion of cultural attitudes about privacy with ethical pluralism. Ess provides a solid foundational discussion of privacy and copyright - two of the more prominent critical issues in cyberethics.
In addition to these foundations, Ess also provides background on digital behavior and digital culture. He shows how discussions of digital behavior and culture are central to digital media ethics, and not just a side note in ethics applied online.
The writing and reflection prompts are particularly useful for students and instructors as discussions of ethics in the classroom can quickly devolve into opinion and relativism. Each chapter includes questions and assignment prompts that delve deeper into the topic at hand, and asks for some application of concepts from media studies to guide student discussion. They require critical reflection on consequences.
For those not teaching the topic, Digital Media Studies provides an excellent background on some of the most pressing issues in digital media. All too often, digital media skeptics set aside discussion of digital behavior and digital culture to simply apply offline ethics online. Ess gives these readers an introduction to critical issues online, and guides them in some basic concepts to address those critical issues fully.